Unlike a traditional take-make-waste linear model, a circular economy involves designing products for longevity, keeping products and materials in circulation as long as possible, including shared ownership or shared use, and recovering and regenerating materials at the end of a product's life.
Many jurisdictions increasingly recognise how a circular economy can diversify the industrial base, create jobs, attract investment and help local businesses to thrive, while also reducing greenhouse gas emissions and air pollution. Shifting towards a circular economy can also reduce the need to further extract scarce natural materials.
Over 80% of most greenhouse gas emissions from consumer goods are embedded in the supply chain (including all activities involved in producing and distributing the consumer-goods). It is difficult to determine the share related to transport because even a seemingly small product may require different raw materials, inputs or semi-finished parts sourced from various parts of the world. Changes in the supply chain hence have important implications for the transport sector's contribution to embedded emissions.
The COVID-19 pandemic has also highlighted to many people the essential role transport plays in New Zealand. As the economy recovers from the pandemic, we are likely to see new business models and practices to emerge.
A survey earlier this year by the New Zealand Sustainable Business Network found that over 85% of businesses and manufacturers thought it was important that products were made of materials that can be repaired, reused or recycled. Advances in packaging materials and changes in business practices and consumer purchasing patterns can reduce the volume and weight of freight movements. However, as the circular supply chain practice grows there will also be an increase in demand for reverse logistics (i.e. from customers back to producers). Greater collaboration across supply chains will minimise under-utilisation and costs.
Due to materials depletion, construction of transport infrastructure will also need to become more resource efficient and environmentally sustainable through recycling, repurposing and redesigning of materials. The OECD projects that global usage of materials will more than double from 79 billion tonnes in 2011 to 167 billon tonnes in 2060, with non-metallic minerals such as sand, gravel and limestone representing more than half of total materials used. The recent adoption of the Sustainability Rating Scheme Policy to deliver sustainable outcomes across land transport infrastructure projects should help to improve construction design and practices.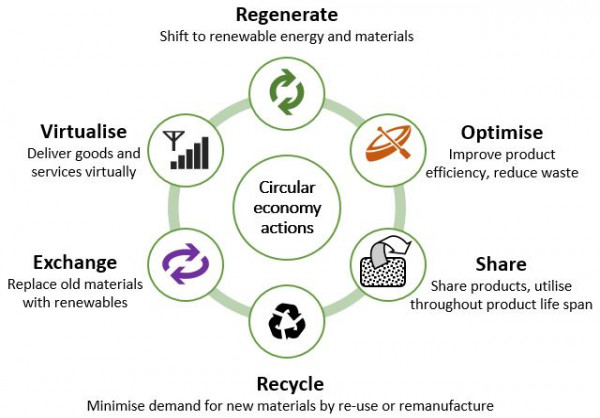 So what are the benefits of transitioning to a circular economy?
Firstly, it makes good business sense. Global economic growth in the past 50 years has more than doubled the consumption of extracted resources, which has driven up the prices of rare metals and materials. The ability to repurpose and reuse products and materials will not only reduce the need for and associated costs of extracting new materials, it can also help to reduce the total cost of production.
Secondly, it creates new business opportunities and jobs, including research and development, engineering, recycling, reproduction and reverse logistics. The Ellen MacArthur Foundation has estimated that moving to a circular economy is a trillion-dollar opportunity. Closer to home, the Sustainable Business Network estimates that a shift towards the circular economy in Auckland could generate up to $8.8 billion by 2030.
Thirdly, in addition to the environmental benefits, consumers would benefit from reduced overall cost of ownership as products become more durable. When more products are shared, consumers would benefit from increased choice and convenience.
As the world takes action towards achieving a net zero emissions target by 2050, more and more businesses and their supply chains will need to adapt to a circular economy. Understanding how to make businesses and consumers change their transport demand behaviours would be an essential part to develop interventions to enable achievement of the transport target. In addition, understanding the circular economy and all its activities will help those of us in the transport sector to appreciate the implications for our transport networks and the services that run on and rely on those networks.
Sources
McKinsey (2016), Starting at the source: Sustainability in supply chains, November 2016.
Sustainable Business Network (2020), Product Stewardship Survey(external link) August 2020,
OECD (2018), Global material resources Outlook to 2060: Economic drivers and environmental consequences(external link)
Waka Kotahi NZ Transport Agency, Sustainability Rating Scheme Policy(external link), September 2020.
In writing this article, the author drew heavily on a range of publications available from Ellen MacArthur Foundation's website(external link)
World Economic Forum (2014), Towards the Circular Economy: Accelerating the scale-up across global supply chains(external link).
The Sustainable Business Network (2020), The Circular Economy Opportunity for Auckland and how business can realise it(external link).
About the author
Joanne Leung is our Chief Economist. She has extensive experience in the public sector, with expertise in cost benefit analysis, appraisal, evaluation and non-market valuation methodologies.