People get stuck in habits and sometimes behave impulsively. They make choices contrary to the common economic assumption that people are rational and use all the information they have available at the time.


When dealing with people, let us remember we are not dealing with creatures of logic. We are dealing with creatures of emotion, creatures bristling with prejudices and motivated by pride and vanity." – Dale Carnegie
The Ministry of Transport aims to influence travel choices and behaviours as a way of achieving transport outcomes such as environmental sustainability or healthy and safe people. However, getting people to shift towards more sustainable transport choices such as using public transport or active transport (e.g. walking, cycling) is an area where the potential of behavioural insights is largely under-exploited.
Increasing use of behavioural insights can help us to design policies that support sustainable changes in behaviour. To realise the benefits of transitioning to a circular economy, we need to drive changes in the choices people make and the way that transport system users behave. For example, a critical change is reducing the amount of travel by car. So how can we apply behavioural insights to support this change?
There are two types of behaviours; conscious behaviour or 'slow thinking' that tends to be deliberate and reflective, and unconscious behaviour that is 'fast thinking' and tends to be automatic or instinctive. Behaviour can become ingrained as 'automatic" over time, such as the habit of driving to work every day. When an automatic choice becomes the default, it can be resistant to traditional policy measures that assume people act rationally and deliberately.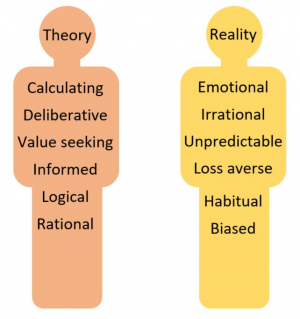 Behavioural insights can be used to help people make decisions that are in their long-term interests and that overcome the inertia of their habits. Several tools and frameworks are available to help us develop transport policy interventions that account for behavioural biases, defaults and shortcuts.
One of these is the EAST framework: make it easy for people to adopt the desired change; make the desired change an attractive option; use a social norm to influence people, and time the intervention at significant moments in people's lives.
Framing can determine how a proposed policy option is noticed and interpreted, and whether it is acted on. We've seen that commuting is a habitual behaviour. To frame the opportunity for mode shift, a policy could aim to enhance motorists' awareness of their costs. For example, direct costs of fuel, insurance, maintenance and licensing are usually paid incrementally through the year and would be would be noticed more acutely if they were paid in one lump sum. Carefully framing these costs and including the wider and external costs of car commuting (such as pollution, accident risk and congestion) may help individuals to deliberate and reconsider their travel mode.
Another behavioural insight is that people like breaking things down into manageable chunks, so when promoting mode shift it helps to remind people that a small change can make a big difference. Large changes to an established habit might be overwhelming and unsustainable, whereas a small change such as using public transport once a week could be easier to do. Once a level of comfort has been achieved, the shift could be extended incrementally to other days in the week, and perhaps become the new habit.
Timing is important. It is often easier to convince people to change their behaviour at particular moments. For example, when someone moves house or changes jobs, that usually breaks the inertia of previous travel habits, meaning they're more susceptible to being persuaded by information about the benefits and availability of alternatives such as public transport.
Another example of timing is the opportunity that currently exists to embed the practice of working from home that happened during the nation-wide COVID-19 lockdown. If large numbers of people could effectively maintain the habit of working from home once or twice a week, this would reduce our reliance on cars and so reduce emissions and congestion.
Providing people with information about transport options at specific locations and times (making it easy), information about changes other transport users are making (making it social) and information about time, health and safety benefits (making it attractive) are all good strategies to use. In some cases, financial incentives or disincentives might also be necessary to supplement these 'softer' measures. Ingraining habits early is also important. Influencing target audiences when they are younger, for example when they're students, makes it more likely they will make sustainable travel choices later in life.
The Ministry of Transport conducts regular surveys of the householders' travel patterns to identify trends and changes. While we are still working through the challenges associated with face-to-face surveys in a post COVID-19 world, there are opportunities to further improve the survey so we can better understand how, when, where and why people travel in New Zealand. We're developing more tools to understand how transport policy affects different segments of New Zealand's population, and more information will be provided in a future issue of this newsletter.
Learn more about the Ministry's Transport Outcomes Framework and Household Travel Survey.
Sources
Department of the Prime Minister and Cabinet's Behavioural Insights website(external link)
Ipsos (2020), COVID-19 impacts on transport(external link)
OECD (2017), Using behavioural insights to promote more sustainable transport choices(external link), Chapter 4 of "Tracking Environmental Problems with the help of Behavioural Insights".
Service et al (2015) EAST: Four simple ways to apply behavioural insights(external link)
About the authors
Joanne Leung is our Chief Economist. She has extensive experience in the public sector, with expertise in cost benefit analysis, appraisal, evaluation and non-market valuation methodologies.
Brittany Farrant-Smith is an Adviser on Economics and Evaluation and came to us from a research role at Waka Kotahi NZ Transport Agency.
Geoff Parr is a Senior Economist with extensive experience in competition and regulatory economics in New Zealand and overseas.
Dr Carolina Lukkien was Lead Adviser for Analysis and Insights. She has recently changed career and is now studying for a teaching degree.